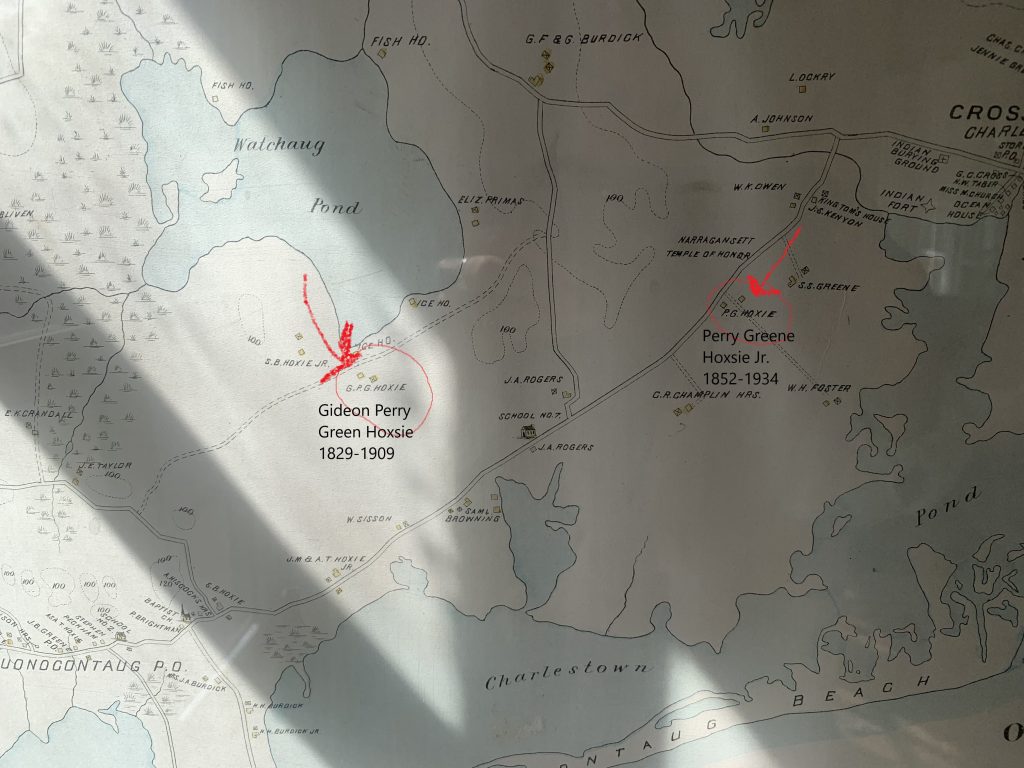 Note: If you are joining our story now – BoP's First Charity Auction this year focused on the Hoxsie-Browning Estate and story.
We were entrusted by a generous donor with the 18-20th century furniture and decorative objects belonging to one of Charlestown's first families. When we found a picture of our subject, Ruth Hoxsie-Browning sitting with her violin on the selfsame settee we were bringing to auction (estimated date of photograph, c 1900s), we had to find out more. 
While the auction is finished and the furniture and decorative objects found new homes, we are left with quite a remarkable story about the unique features of early Americans.
Words that come to mind to describe the Hoxsie-Browning Family (dating back to 1723). Strong. Innovative. In love with freedom and individuality. Most of all, resilient.
Hoxsie's become Browning's and Retailers and Teachers…
Gideon Perry Green Hoxsie (1829-1909), grandson of Gideon, arrives in Charlestown from Richmond to marry Rosina Burdick Potter (1836-1913).
A September marriage in 1852 leads to the October birth of their son,  Perry Greene Hoxsie, Jr.  (A woman gets married at eight months pregnant…see below to see what books her granddaughter reads and perhaps we can understand her attempt at understanding.)
Farm life turns out to be much more dangerous than the wars his descendants fought in as G.P.G. Hoxsie gets disfigured in a farming accident. He does not join the Rhode Island rolls of the Union Army.
His son Perry marries Emeline MacDonald (1850-1887).
Emeline dies at aged 37, but not before giving birth to three children; her two daughters figure prominently in our story, Grace Belle Hoxsie (1875-1942) and Ruth Emma Hoxsie (1881-1964).
Charlestown has a population of 2,000. It holds onto an agrarian economy as the cities around it are quickly turning industrial. Nearby innovators like mill owner Gilbert Stuart were joining the industrial age in North Kingstown. Electricity had arrived to the quiet town. Steam trains were running in and out of nearby Westerly and South Kingston.
BROWNING
John Denison Browning (1830-1906) buys an operating food store and farm from Welcome Hoxie (We are fairly certain that Welcome Hoxie also owned and operated a hotel at the turn of the century at 289 Narrow Lane; currently Books on the Pond, LLC). His son, Robert, born two years after the Emancipation Proclamation is announced by President Lincoln, marries Grace Belle Hoxsie (1875-1942) in 1903. The Browning's and Hoxsie's are joined, and as Simon & Garfunkel sing, further marry their fortunes together.
SISTERS: GRACE and RUTH
Six years apart, and a mother who died of breast cancer while they were only children,  Grace and Ruth are symbols of American innovation, resilience and perseverance. The women's right to vote is still twenty years away as they come of age. They will become valuable resources to the Charlestown and Matunuck communities by making their own paths as a shopkeeper and school teacher. Not unlike their ancestors, the British Esquire, Joseph Hoxsey (Hoxsie) and his son, Gideon, the Sheriff, they forge their own destinies.
Grace shepherds her family – she had four children – through the 1918 Influenza Pandemic. Many infants died in Charlestown and its surrounding areas during this time and we are presuming from this flu. Later at aged 59, Grace tackles the Great Depression by establishing and maintaining the Browning store. Grace even makes a deal with Standard Oil.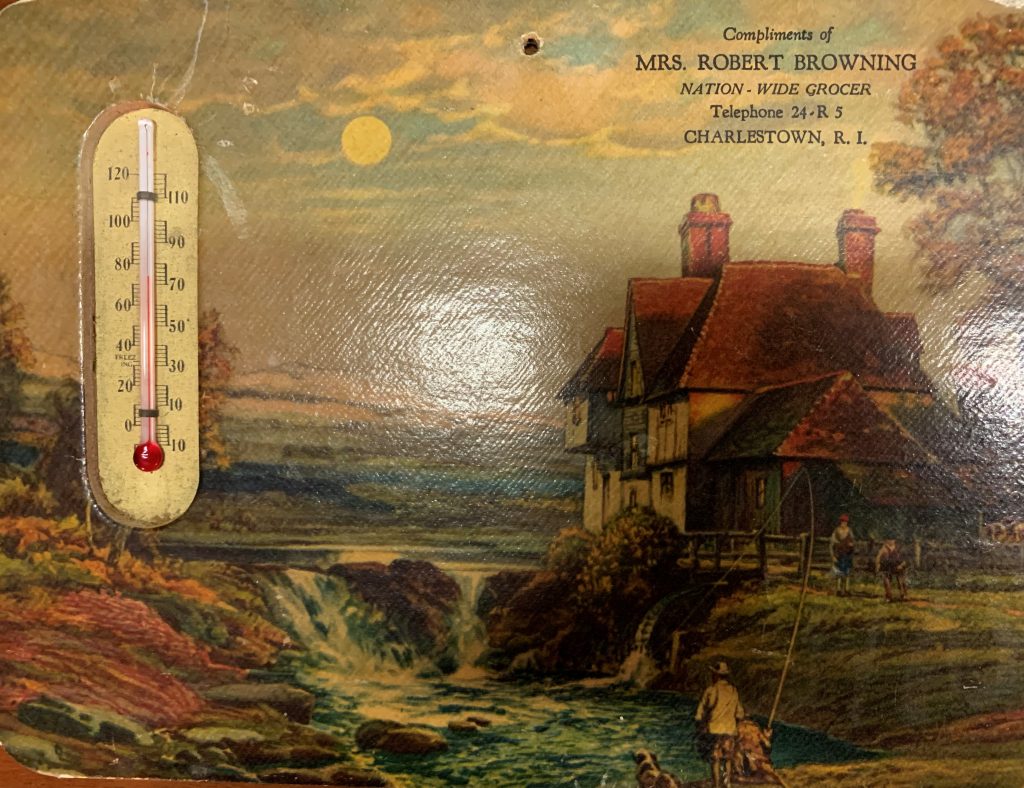 In 1910, Ruth chooses a different course of action and attends Providence's Normal School to train as a teacher. One of the first educational preparatory schools of its kind in the nation, Ruth shuttles back and forth between Providence and Kingston on the new train.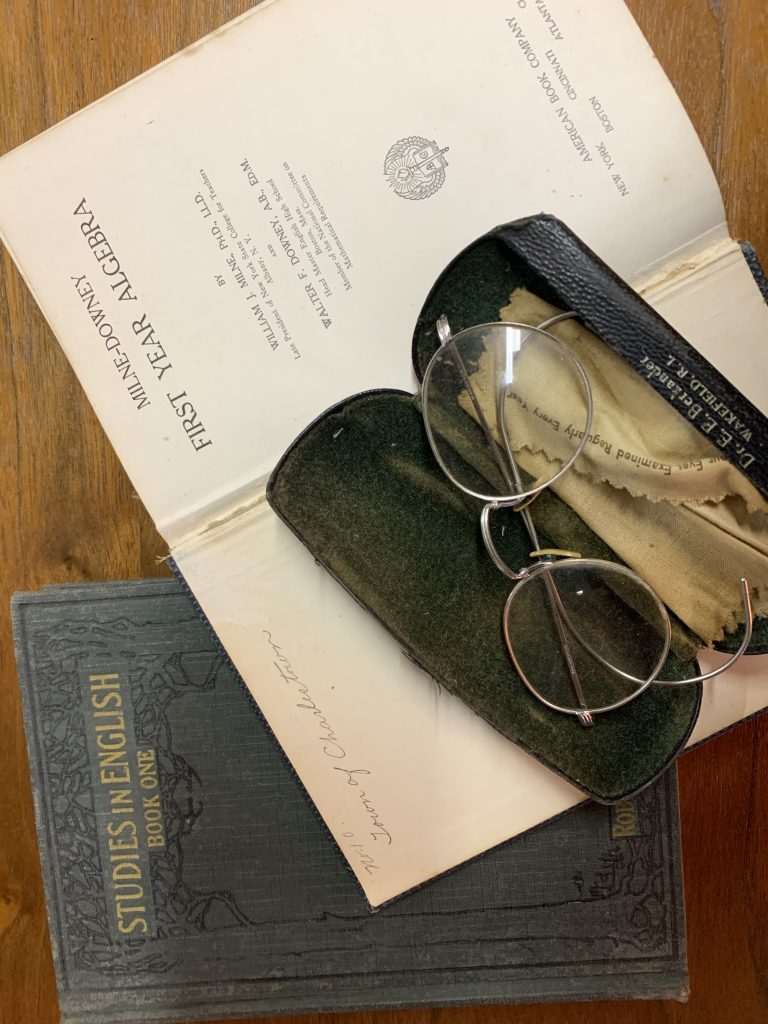 She teaches herself violin; reads women's studies books like the Scarlet Letter (remember her grandmother Rosina Burdick Potter's predicament) and Mary Shelley's Frankenstein. 
Ruth does not bear children as she helps hundreds of young minds as a teacher at the Matunuck School House.
Her students who still live today, attest to her kindness and incredible teaching skills.
"A History of Charlestown, RI through the Hoxsie-Browning Family's Furniture and Decorative Objects"
Auction benefiting CHS ends October 15, 2020.
Any proceeds to CHS will be announced later this year.
BoP had a very good time curating these colonial and mid century furniture and objects and researching and composing this three part story. Stay tuned for more information on the publication of "A History of These Places through the Hoxsie Browning Family: Richmond, Charlestown and South Kingstown;" it will contain, among other facts and narrative nonfiction, our donor's turn of the 19th century's photographs.
Please add your thoughts to this story here