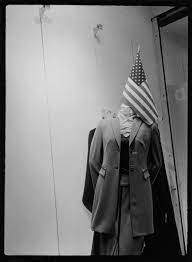 Owning a bookstore right now has its challenges. Pricing may be one. Surviving a pandemic another. Finding qualified help another. Keeping the right balance of inventory. So when Roy and Martine Arenella strolled into the store one recent Saturday afternoon, it would be fair to say I wasn't in the best of moods. "Where is the nonfiction section?," Roy asked.
"In the barn that that says "nonfiction," I answered, trying very hard not to sound sarcastic.
Readers read. I have learned this much and this actually means a lot.
Roy laughed. His wife smiled. They glanced around the gallery and not very interested in the photographs in the show, attempted to make small talk. I followed them to the nonfiction barn and inquired in their interest.
"Photography and obscure poetry books by independent publishers." By this pronouncement I knew immediately we had an artist on our shop. Roy launched into his search the way a prospector might pick for gold out West.
"He has over 10,000 books," Martine informed me. Our conversation began. He found a book of letters between Frank O'Hara and James Schuyler, edited by a late friend. This made me extremely happy; to have someone like Roy Arenella find something here. We discussed his work at Woodstock and having three books on the world famous 1969 concert where his some of his work was featured became another badge of honor.
But any time anyone finds a book here, actually, is a good feeling.
A Book For Every Season of Your Life
Books, I am also learning, are intensely personal.  We are extremely wedded to our books. I think every choice in a book demonstrates  some kind of commitment. To learning. To entertainment. Selling books is like that too. I wish people could tell me what happened to the books they buy here. Even if they just land on a shelf, or get passed on to someone else. Opening the store again, I found a package. It was a book of Roy's photographs, left by Martine and Roy.
How lucky I am.
Please add your thoughts to this story here