2022 Surf Spots and Shops near Books on the Pond
Charlestown, Rhode Island
I've often wondered as a Northeastern skier if surfing in New England gets a similar rap. Is Rhode Island going to rank near Hawaii or Montauk, Long Island or the Jersey Shore for riding waves?
After returning to skiing after a decades long hiatus, I decided that any chance to do 'my' sport is better than none at all. Is surfing Rhode Island a bit of the same notion? If you cannot get out to Hawaii or Portugal, is any ride better than none at all?
Here are some recommendations from Books on the Pond. We have seen surfers enjoy:
2022 News: Ocean Road Path is Open to Surf Rose Nulman Park, Point Judith (PJ) Narragansett
Last December, Point Judith's Rose Nulman Park in Narragansett, the shoreline where we witnessed epic days of surfing, closed due to erosion. The land is owned by a private foundation and is currently looking for funding together with the Department of Environmental Management in order to conserve it and its public use. Things are looking good, reports The Providence Journal (12/21). State, local and private forces are working together to get the funds together to start shoring up the rocky shoreline in order to make it safe again.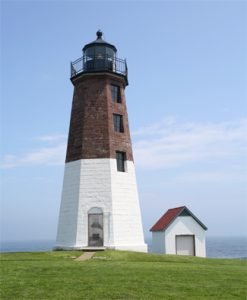 The Rose Nulman Point Judith Foundation is maintaining a coastal access path on Ocean Road before the park's entrance. The parking lot is closed. Fishermen and surfers can still do their thing at Rose Nulman or "PJ" as local surfers affectionately call it. While you may need a friend to park the car and walk back to the coastal access path, you are still able to surf some of Rhode Island's arguably best waves.
Surfers paddle out, search and ride waves also at Scarborough and Narragansett Beaches, and worthy surf is known to roll at Weekapaug and Matunuck, Rhode Island.
Top Three Places to Surf and Shop in Rhode Island
Walle Hutton owns the RI Surf Shop located on Main Street in the historical town of Westerly, Rhode Island. Located next to the hopping and brand new retail space renovated by the Royce Family, Hutton has created a down to earth and authentic place to get suited up for Rhode Island surf. He offers his expertise in a mild and kind manner – I bought my first wetsuit here; a difficult but necessary purchase. I will enjoy it for many years to come. Whether looking for that special board to take you to a new place, a pair of excellent sunglasses (style on point) or bikini or bathing suit, this is the sporting store that embodies the South County surf spirit and lifestyle. In spades.

Matunuck Surf Shop, Matunuck
RI surf natives own this small shop located conveniently right next door to the waves you may be seeking. A perfect place for last minute supplies and a nice place to enjoy a coffee and/or slice from the food trucks in the sandy lot. These guys have the pulse on the latest local surf news and events going around in Matunuck's world of sport (and a very active social media presence). I purchased my favorite leather Rainbow flip flops here and definitely appreciated their price point and the ability to do some shopping with my five senses (shop local! support the store owners who support the community!).
Matunuck's surf is basically concentrated into three main breaks, from east to west: Deep Hole, a speedy left at low tide; Trestles, an A-frame peak with hollow rights and zippy lefts at lower tides; and The Point, a well-defined peak with a short, bowly right and a long, rippable left that links up with an inside bowl on incoming. All spots break over cobblestone, boulder reefs and can handle well-overhead swell. The Point likes southeast swells while Trestles and Deep Hole typically favor eastern swells. All operate on southern swells.  Source: seaweedmagic.com
Warm Winds, Narragansett
This perennial and longstanding pillar of the Rhode Island surf community has a vast new and used inventory of surfboards. The shop's surf mobile can be spotted all around South County, too. It is the kind of place where non surfers (a.k.a. this writer) can feel a touch out of place. The owner and his staff mean business and he has been in it for a long time. Also located conveniently to the waves surfers are seeking, near Scarborough and Narragansett state beaches. There is also a great coffee shop with freshly baked goods owned by a Books on the Pond reader/shopper and I visit as often as I can.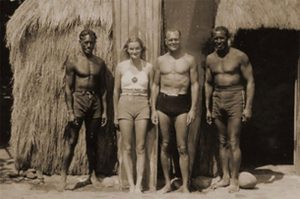 Please add your thoughts to this story here