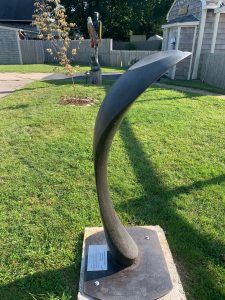 Sometimes all one has to go on is the painting or sculpture itself. Scott Keeley is refreshingly different; we are given a stunning work of art and the ability to get to know him through conversation, automobile choice, citizen advocacy, and a quote by the French theologian and paleontologist, Pierre Teilhard de Chardin (1881-1955).
As an inventor, Scott shows up to meetings driving some kind of contraption – is it a bicycle? moped? two seats and pedals? why does it have a glass bubble covering it? His questions startle; reveal an astute listener. Speaking with Scott is also a real treat – he is an advocate by profession (protecting intellectual property) but also the leader of a local initiative to preserve the currently threatened right of the town's citizens to sit and stroll on the beach. He explains the law in terms the layperson can understand. Like his art, it sounds and looks easy but when we recognize the process – or remember that everything worthwhile takes work, perseverance, resilience – this sculpture, the law, and everything Scott works on – isn't. The 95F day he shows up to install his work together with an assistant from Saudi Arabia, we also get another glimpse into the man and artist.
But it is not until one reads the quote by de Chardin do we get a complete picture of this magnificent sculpture.  For this, you must come and experience it yourself.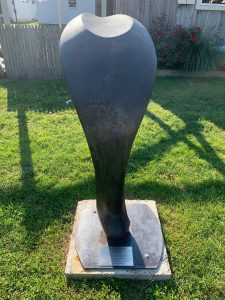 BIOGRAPHY
Scott Keeley is a sculptor, industrial designer, inventor, and patent agent. 
Keeley's sculptures are permanently installed in private homes in Barcelona, Berlin and Moscow. 
Scott completed a Masters in Fine Art in Sculpture at Texas Christian University. He has taught design and drawing at the Kansas City Art Institute and in 1997 joined Southern Illinois University as head of its design program.  He works in cast iron at the Steel Yard in Providence, RI and at Rivers of Steel in Pittsburgh, PA and also maintains a studio in Stonington, CT.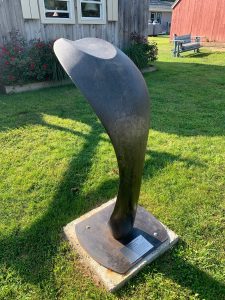 ARTIST STATEMENT
Scott Keeley blends 3D modeling and printing with traditional sculpture techniques to create sculpture with unique visual and balance characteristics. 
He begins with 2D hand drawn sketches that express a concept or idea. Then, he translates the sketch into a number of 3D models. One design candidate is selected from the group. Refinement is performed to locate the center of gravity within the base of the sculpture.  The 3D computer model is then converted into printed paper templates that are cut out of wood, then assembled and carved by hand to create the final form.   
The final sculpture is a solid wood form with multiple laminations.  The wood form is used as a pattern to create a sand mold that is then cast in iron or cement.  In some works, wrought steel are added to compliment the movement and balance of the work.  
For inquiries on price, please contact Alexandra Lehmann, BoP Gallery (914) 450 9598 or read@booksonthepond.com
Everything that Rises Must Converge, 2020
Cast Iron
2′ x 2′ x 5′ (L x W x H)
1/5 Edition
$10,000.
This sculpture is available in cast concrete. Please inquire.
Please add your thoughts to this story here