"Ex Libris": Why This Matters
Bookplates and their Meaning
Curating one's library is an ongoing process. Personal collections are living, breathing entities. If you are an active reader, staying current on your shelves, organizing them by alphabet or subject or how you see fit, giving books away to make way for new ones, and/or creating a special space for them in your home (bedside is a popular option, for example) may not even feel like a chore. Dusty bookshelves make me nervous. Gravitating to bookshelves and libraries during  parties makes social gatherings less fraught. I like to read titles; recognizing or being intrigued by them. Reading always takes attention and books demand respect. Their viability perhaps diminishes with time but only for you. Teachers appear when students are ready. A book that saved your life ten years ago may no longer be relevant, but for certain this same book can save another. Therefore, it is prudent to give away your 'old' books wisely and carefully. This also makes way for new ones. My home takes two adages seriously: Cicero's "A room without books is like a body without a soul," and "A home is collected, not decorated."
From the Library of…
An "ex libris" designation is not only for children's books. "Ex libris" means "from the library of," and it makes a new reader aware of where the book originates. It is especially important because people loan their books – very often with the express desire to have them back. A bookplate, therefore, assures the likelihood. An already read book has a good chance of being read again and provenance can be a very good thing.
Luminaries – both movie stars and celebrated authors – used to design their own stamps. Maybe they still do! This writer hopes so.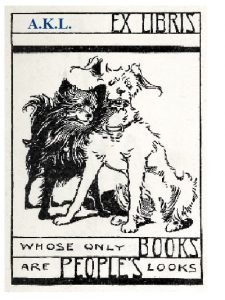 I often speak in puns, even though I don't mean to, and this is why my favorite  bookplate looks like this one. It isn't easy to fathom, I think. You have to know dogs and their ability to read people's faces as some people can predict the weather. I think it expresses my personality pretty well. The other thing I'm prone to do is to leave behind messages – cards, notes, torn newspaper articles, pictures that caught my eye, ticket stubs – all of these paper momentoes that may someday be part of the past record of our cultural histories. I love going back to a book and finding them.
A personal library is an organic, live thing – it evolves, is shaped by time and changes over it. Our intellectual histories are vital to a free society and to the nature of individuality. Sometimes people say that they don't buy new books because they have so many already. Maybe because I am mostly a nonfiction reader I don't quite understand this.  I recommend revitalizing this space in your home – give your books away, find the knick knacks that mean the world to you and place them between the books that you can never part with.
Books on the Pond often receives requests for taking used books. I wish we could. We are a new book store, and our promise lies in providing our customers with the newness of books, especially the way they smell, the crack of their spines, the virgin paper. It's about possibility. There is a certain optimism in purchasing a new book and the world it contains.  Putting on your bookplate or using your "ex libris" stamp makes this book your own. The books in your library that contain your book plate, "from the library of…." are meant for the glorious and very valuable shelf where they reside. And someday, someday, someone else will open this book …and know it was cherished enough to be a part of your personal collection.
Please add your thoughts to this story here