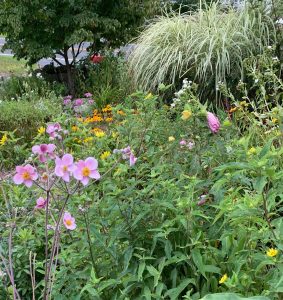 Cross Mills' Library Annual Garden Tours 2020 Are Available Online
As many of you may have missed, the library could not hold its annual used book sale this year. (In what other place on Earth do you know where one can fill up a bag of books and pay what one feels it is worth?)
This spring, Library Director Sarah Ornstein and her Board of Directors produced video garden tours conducted by library patrons. The online videos show resplendent local gardens tended by Charlestowners – many of them for several decades.
Click below and enjoy several garden tours from the safety and comfort of your homes.  Afterwards, please return to the library's page and donate a contribution to support the library.
https://www.crossmills.org/virtual-garden-tour.shtml
A BoP customer and experienced gardener came into the store this summer looking for a book to help him grow tastier vegetables.
He needed to be reminded of the basics.  Here is the book he landed on. (It is out of stock but we can find it for you.)
THANK YOU TO PAULA BUCKHEIT FOR STARTING OUR GARDENS THIS YEAR AT BoP. 
Please add your thoughts to this story here