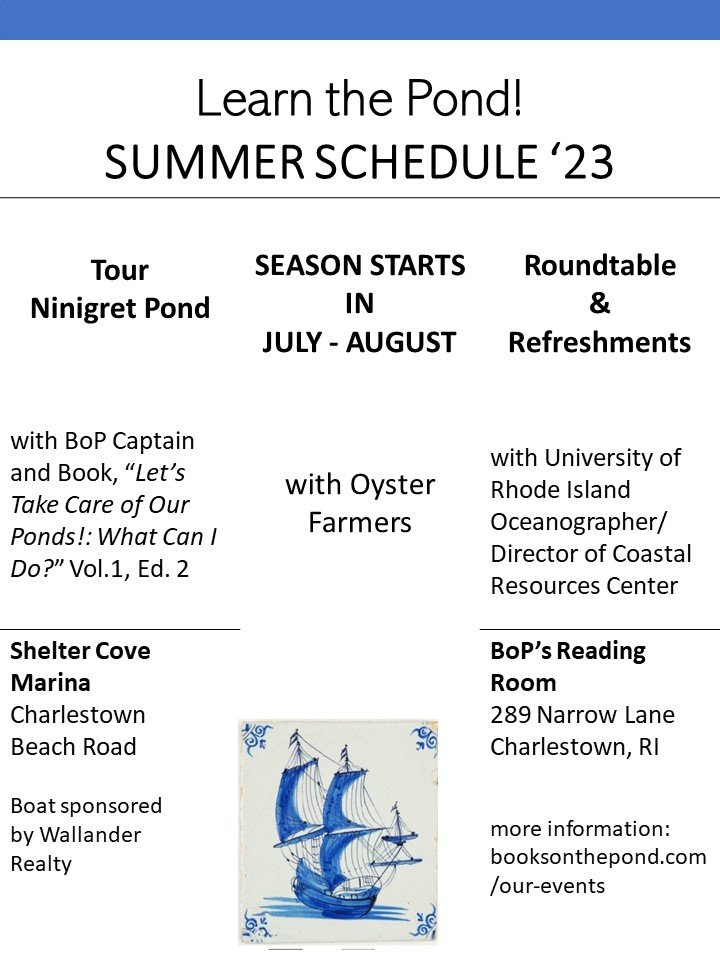 BoP's Ninigret Boat Ride & Roundtable
back by popular demand!
July 26 and August 10, 2023
6 p.m. - Departure from Shelter Cove Marina
7:15-9 p.m. - Roundtable and Refreshments BoP Reading Room
Launching at 6:15 p.m., join us as we take an urgent educational odyssey into the lifeways of Ninigret Pond. Ocean advocacy groups inform us every year that dramatic action is needed to heal aquaculture in South County, Rhode Island salt water ponds. It is hard to ignore the increasing presence of 'algo blooms,' and often their smell.
These two evenings return the issue to individual responsibility. After our boat ride and roundtable at BoP's Reading Room, the question, "What can I do?" will have a definitive answer.
Passengers receive Vol. 2 of BoP's "Let's Take Care of Our Salt Ponds," a primer based on the earlier work of marine biologist and URI Professor, Prentice K. Stout (1921-2021). It covers the magnificent history of Ninigret - from the Narragansetts' rich cultural past - to how and why the Breachway was built. From reading the tides, charting your motorboat with the tides, farming the pond and much more about how we can change how we interact with the pond.
Afterwards, join us for a roundtable Q&A with URI Professor J.P. Walsh and Ninigret oyster farmer (TBD). Ask questions. Get answers. Farm to table refreshments will be served (including oysters, Grey Sail beer and/or wine).
Limited to 10 passengers per trip.
$150 Boat tour + Roundtable/Farm to Table Refreshments (Passengers receive Book, Vol.1, Ed.2 and Print Photograph. See below)
$70 Roundtable Only