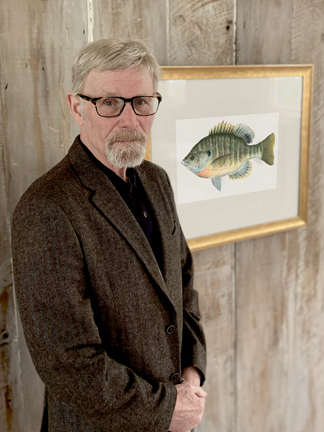 BoP Reading Room is pleased to represent Flick Ford's New England fish and bird prints in a variety of sizes and prices. Beginning on August 3 and running through September 15, BoP Reading Room exhibits the new work by Flick Ford, natural science illustrator. The show "Atlantic Coast Wildlife Artworks and Studies" of Atlantic flora and fauna includes new original masterwork of a striped bass, "Queen of the Rips." Greenwich Workshop Press in Connecticut will also unveil Ford's Diamondback Terrapin and Northern Harrier. Small works and studies will be included of the horseshoe crab, an osprey study and the swallow-tailed Kite. These framed works will be available as originals or in limited edition prints.
BoP Reading Room gallery has several New England fish and bird and prints including favorite species like the striped bass, false albacore, bonito and blue fish. Specific to Rhode Island shores, tautog, black sea bass, and fluke are also available for surfcasters. Gifts for offshore fishermen include Flick Ford prints of New England fish including the false albacore, yellow tuna, bluefin tuna and mako shark.
Flick will be on hand to discuss how his work is affected by the current state of the ocean and his awareness of how conservation measures are evident in his life as a natural science illustrator and artist. Ford's works are often more accurate in chronicling the state of the water that his subjects (species) live in than photographs.
This show will be on view until September 15. The gallery is open by appointment and on Fridays and Saturdays from 11-3 p.m.
BoP's Reading Room, located in Charlestown, Rhode Island, is an art and writing center hosting place-based educational programs for intergenerational members. Its 2023 schedule includes co-partnerships with the University of RI and Middlebury College's Vermont Folk Life Center.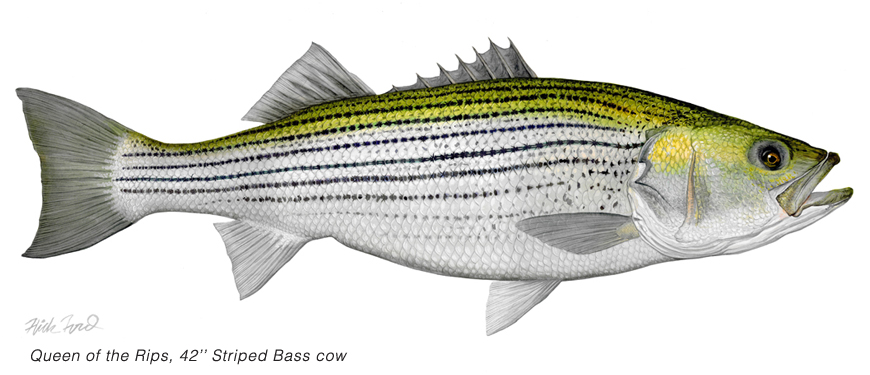 Portraits of Putnam County Fish
Flick Ford Exhibits in Cold Spring, New York
Flick Ford, angler and artist, exhibited over thirty of his original watercolors and limited editions prints at 160 Main Street in Cold Spring, New York last Saturday. The taxonomic illustrations selected for this show represent fish species that occupy the Hudson River and reservoirs, ponds and lakes in Putnam County. Ford also wrote and illustrated an accompanying book entitled, "Hudson River Fish," published by George Carroll Whipple, III, founder of the Preserve Putnam County Society.  This exhibit, on view through May 20, serves to bring awareness to this area's fish that are in decline, depleted, vanishing and/or fully extirpated – or, in the case of the Atlantic Sturgeon, returning.
Ford used the Riverkeeper's Pisces 2020 Report as the reference for scientific data and consulted with several of the Riverkeeper's habitat restoration, fisheries managers as well as Department of Environmental Conservation aquatic biologists for up-to-date information.[1] This 22 page guide, with Ford's singular interpretations of local fish and fishing advice (including suggestions for bait and tackle and consumption), is available through the PPC Society.
Ford's realist style and exact rendering of anatomical proportions of each species can be used to chronicle the state of fresh and salt water fish species in our Atlantic Ocean, rivers, ponds and lakes. The emotive power of his original and print illustrations along with Ford's subtle and dynamic use of color and interpretation of these animals' lifeways make him one of the best natural science illustrators working today.
Born and raised in Westchester, Flick Ford is also an avid sports fisherman, living and working in Rensselaer County, New York. He is represented by established galleries on the Northeast coast and has shown at Drexel University's Academy of Natural Sciences. He is also the author and illustrator of four books published by Greenwich Workshop Press, CT.
---
[1] The Riverkeeper, located in Ossining, New York, is a non profit environmental organization founded in 1996, that "protects and restores the Hudson River from source to sea and safeguards drinking water supplies, through advocacy rooted in community partnerships, science and law."