TICKETS ($20) ARE STILL AVAILABLE! as of June 26, 12:45 p.m. Please call 914 450 9598 with any questions.
The American eel, found in more freshwater bodies in Rhode Island than any other fish, is a slimy and serpentine creature that emerges from underwater lairs to feed at night. It is the only fish in North America that spends its life in freshwater but migrates to the open ocean to procreate. It reproduces only once in a lifetime of 30 years or more and then promptly dies.
In this entertaining and informative natural history of eels, Richard Schweid explores how people around the world cook, eat, harvest, harm, protect, and study this fascinating creature.
Join Richard, a Charlestown and Madrid-based resident, as he educates us about one of Rhode Island's most important sea creatures.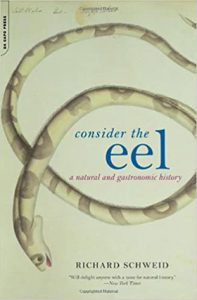 Journalist Richard Schweid first learned the strange facts of the freshwater eel's life from a fisherman in a small Spanish town just south of Valencia. "The eeler who explained the animal's life cycle to me did so as he served up an eel he had just taken from a trap, killed, cleaned, and cooked in olive oil in an earthenware dish," writes Schweid. "I ate it with a chunk of fresh, crusty bread. It was delicious. I was immediately fascinated."
As this engaging culinary and natural history reveals, the humble eel is indeed an amazing creature. Every European and American eel begins its life in the Sargasso Sea–a vast, weedy stretch of deep Atlantic waters between Bermuda and the Azores. Larval eels drift for up to three years until they reach the rivers of North America or Europe, where they mature and live as long as two decades before returning to the Sargasso to mate and die. Eels have never been bred successfully in captivity.
Consulting fisherfolk, cooks, and scientists, Schweid takes the reader on a global tour to reveal the economic and gastronomic importance of eel in places such as eastern North Carolina, Spain, Northern Ireland, England, and Japan. While this rich yet mild-tasting fish has virtually disappeared from U.S. tables, over $2 billion worth of eel is still eagerly consumed in Europe and Asia each year. The book also includes recipes, both historic and contemporary, for preparing eel.
No fishery enthusiast should be without it. (Times Literary Supplement)
Everything you always wanted to know about eels. . . . Will delight anyone with a taste for natural history. (New York Times Book Review)
Anyone with a curiosity about the sea will find Schweid's taste of the eel strangely appealing. (Publishers Weekly)
No fishery enthusiast should be without it. (Times Literary Supplement)
Richard Schweid is a journalist, a sociologist, an anthropologist, and a novelist, all rolled into one. [This] is a marvelous book, one that manages to be both informative and entertaining. The best thing I've read in a long time. (Steve Yarbrough, author of
Visible Spirits
)
[An] engaging look at an important food fish. . . . Schweid delves into both the science and the folklore surrounding this fish. (Booklist)
[It] may be his best work yet. With wit and enthusiasm, Schweid tells the story of a fascinating creature. (Book Page)