Renowned American illustrator and angler Flick Ford returns to Books on the Pond – this time to catch stripers with BoP's Captain Ed Everich. Afterwards, we will have a chance to riff on all things fish.
Please join us for conversation on surfcasting, the importance of taxonomic drawings, ocean preservation and the purpose of 'parlor prints.' Following our discussion, you will be able to identify what makes some prints better than others and why illustrations may be more valuable than digital photographs.
Flick Ford has exhibited at Drexel University's Natural Academy of Science among other places.  He has published several books on fishing with fine art publisher Greenwich Workshop in CT.
Admission ($15) includes coffee, tea, some pie and one (1) 5 x 7″ printed card from Flick Ford's boxed card set of Salt Water Fish illustrations.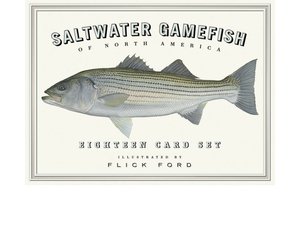 Purchase Tickets
Please put in your number of attendees

Notice
: Function the_widget was called
incorrectly
. Widgets need to be registered using
register_widget()
, before they can be displayed. Please see
Debugging in WordPress
for more information. (This message was added in version 4.9.0.) in
/var/www/wp-includes/functions.php
on line
5835
Stay Updated on New Events at Books On The Pond